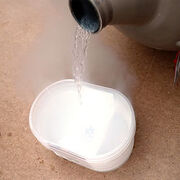 Nitrogen
is a chemical element that has the symbol N, atomic number of 7 and atomic mass 14.00674 u. Elemental nitrogen is a colorless, odourless, tasteless and mostly inert diatomic gas at standard conditions.

Many industrially important compounds, such as ammonia, nitric acid, organic nitrates (propellants and explosives), and cyanides, contain nitrogen. The extremely strong bond in elemental nitrogen dominates nitrogen chemistry, causing difficulty for both organisms and industry in breaking the bond to convert the N2 into useful compounds, but releasing large amounts of often useful energy, when these compounds burn, explode, or decay back into nitrogen gas.

Nitrogen occurs in all living organisms. It is a constituent element of amino acids and thus of proteins, and of nucleic acids (DNA and RNA). It resides in the chemical structure of almost all neurotransmitters, and is a defining component of alkaloids, biological molecules produced by many organisms
Characteristics
Edit
Nitrogen is a non-metal, with an electro negativity of 3.04. It has five electrons in its outer shell and is therefore trivalent in most compounds. The triple bond in molecular nitrogen (N2) is the strongest. The resulting difficulty of converting N2 into other compounds, and the ease (and associated high energy release) of converting nitrogen compounds into elemental N2, have dominated the role of nitrogen in both nature and human economic activities.

At atmospheric pressure molecular nitrogen condenses (liquefies) at 77 K (−195.8 °C) and freezes at 63 K (−210.0 °C) into the beta hexagonal close-packed crystal allotropic form. Below 35.4 K (−237.6 °C) nitrogen assumes the alpha cubic crystal allotropic form. Liquid nitrogen, a fluid resembling water in appearance, but with 80.8% of the density (the density of liquid nitrogen at its boiling point is 0.808 g/mL), is a common cryogen.

Unstable allotropes of nitrogen consisting of more than two nitrogen atoms have been produced in the laboratory, like N3 and N4. Under extremely high pressures (1.1 million atm) and high temperatures (2000 K), as produced using a diamond anvil cell, nitrogen polymerizes into the single-bonded cubic gauche crystal structure. This structure is similar to that of diamond, and both have extremely strong covalent bonds. N4 is nicknamed "nitrogen diamond."
The base value of each unit of ranges between 5 and 15Ð per unit, with up to 6 units being found at any one time.
Presence on Mars: Common
Community content is available under
CC-BY-SA
unless otherwise noted.