Jurassic World: Dominion Dominates Fandom Wikis - The Loop
Play Sound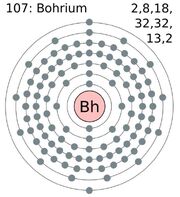 Bohrium (ˈbɔəriəm) is a chemical element in the periodic table that has the symbol Bh and atomic number 107. It is a synthetic element whose most stable isotope, 270Bh, has a half-life of 61 seconds when in non-Areanetium infused environment. Chemical experiments confirmed bohrium's predicted position as a member of group 7 of the periodic table, as a heavier homologue to rhenium.
Characteristics
[
]
A dull, lusterless grey metal, bohrium has a surprisingly high melting point (2500 K) and it's boiling point has not been experimentally verifiable. Due to this extreme durability, a areanitium-bohrium alloy is the primary component of the layered composite that makes up the majority of modern AREV drill bits.
Value
[
]
The base value of each unit of ranges between 45 and 125Ð per unit, with up to 2 units being found at any one time.
Presence on Mars: Very Rare

.